Caleb has starting counting higher and higher! He can now count to ten! We started a fun game in the car today, and I was amazed he caught on so quickly. We take turns saying the numbers from one to ten. (I say one, he says two, I say three, he says four...etc)
Monday we met the Ansiels and Hankins at a park in Upland for some fun playtime, and then we had lunch at Maniac Mike's at the Cable Airport! So fun! Caleb LOVED watching the airplanes take off and land. He got SO excited and a tad impatient in between planes. He kept saying, "another airplane?" He also learned to distinguish between a motorcycle sound and an airplane sound. He was very infatuated with the word motorcycle all day, and had fun pointing them out on the way home.
Tuesday we played at Rosena Park for 2 hours! Caleb did great, and as there was a light crowd, he became a bit more adventurous! He even did the big slide on his own!
He's also become a fan of golf, thanks to Daddy playing a Tiger Woods Golf game on XBox. I finally found a play golf club at the Dollar store, and he adores his new toy...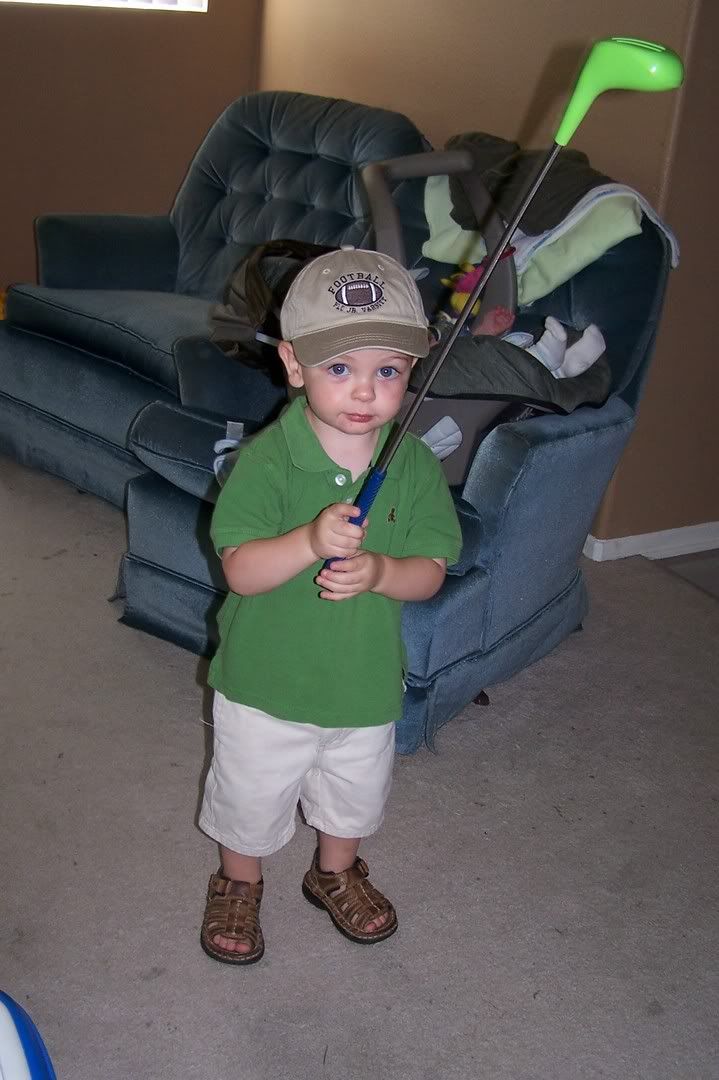 Wednesday, today, we played at the park again, this time with Hailey. Then we had a Mom's Club Meeting, followed by lunch with Hailey and Carissa (and their moms, of course) at Round Table. Its so nice to spend the morning out and about, and to arrive home just in time for a long nap!